New Arrivals for April 7, 2017
Datura metel 'Double Purple'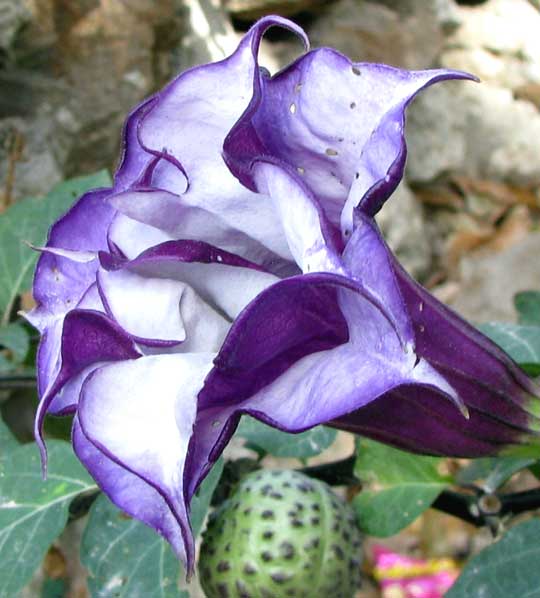 This tropical plant has exotic trumpet shaped flowers all season long. Use in containers just like a tropical hibiscus; patios, porches, decks and poolside. Like many plants in the garden center, this one is poisonous if eaten…don't eat it!
$20 3 gallon Size
Viburnum opulus 'Roseum' – European Snowball Bush 
A large rounded shrub reaching 10-12′.  Probably the oldest known garden viburnum as it was recorded in the 16th century as "Sambucus Rose".   Considered to be an heirloom plant, possibly why it is the most commonly known viburnum to the public.  Blooms profusely with large, double 3″ flowers in "snowballs" in mid May.  Flowers are first apple green, changing to pure white for an extended period.  In high demand by the floral industry as a cut flower for arrangements.  All of the flowers are sterile so there is no fruit.  Fall color is shades of reds and yellows.
Ready to plant today!




3 gallon plants $25
Native Azaleas – (Flame Azaleas)
Nacoochee Princess – Pink
Great Balls of Fire – Red/Orange
Pat Ryan – Orange
Stonewall Jackson – Yellow Orange
Summer Eyelet – White
Several Varieties in 1 gallon ($10) and 3 gallon ($25-$30) – In Stock and blooming today!
Stonewall Jackson                                                      Pat Ryan
Mock Orange – Philadelphus x vir Natchez
This fountain-shaped shrub is noted for its highly ornamental, large, white flowers, which carry a light fragrance much the scent of orange blossoms. Branches are covered with lush green foliage for an attractive effect even when not in flower. Ideal as a seasonal specimen or when planted in mass to create a fast growing screen. Deciduous. 6′-8′ tall and wide
Acclimated and ready to plant today
3 gallon plants $30

We invite you to stop by the 

Zone 7 Landscape Center

 this spring to see all our latest arrivals!